---
HSA Store Grand Opening at Reunion
Fri Jul 18, 08 6:50 am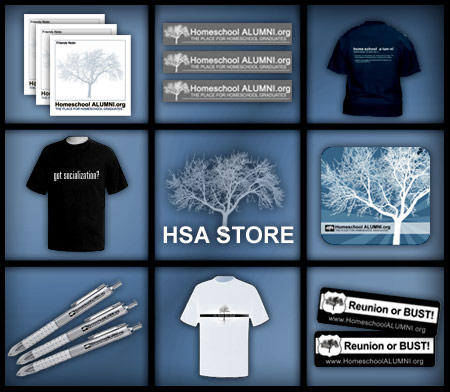 The grand opening of the HSA Store will be at the Entrepreneurs Exposition at the 2008 Homeschool ALUMNI National Reunion!

The HSA Store will feature T-shirts (including the two winning designs of the recent contest!), bumper stickers, window clings, sticky notes, mouse pads, and pens.

Itís a great way to support HomeschoolALUMNI.org, and will soon be available online, too! Check it out!
---
Trackback URL:
http://www.homeschoolalumni.org/trackback.php?e=21893



Coolness! I remember talking about this 2-3 years ago; it's neat to have it finally here!




HSA sticky notes??!! My co-workers are going to LOVE me




Waaaayyycool!




Very, very cool!




I'm glad this is happening!! You guys are so cool!!!

sage

, Sun Jul 20, 08 11:57 am




I have purchased from the store. And lo, it is AWESOME!

Page 1 of 1